Cutting, rolling, molding, welding—you name it, we can do it.
Our team at Precision Fabrication has decades of experience producing a wide variety of finished products out of aluminum, mild steel and stainless steel. Our 12,000-square-foot facility is equipped to perform a wide variety of metal fabrication services, and with four 3-ton overhead cranes on site, we can handle projects up to 60' x 14' with ease. Explore the possibilities below, then give us a call to talk about your custom fabrication project.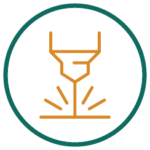 Laser Cutting
Laser cutting employs a focused, high-powered laser beam to cut metal into custom shapes and designs. This advanced technology delivers precise, accurate cuts with high-quality edge finishes, all in a quick turnaround time.
Precision Abrasive
Water Jet Cutting.
Our two OMAX Precision Jet Machining Centers position us to cut a variety of materials with high precision and creative swagger. We can cut very large pieces directly from a CAD drawing, .DXF file or .DWG file, so our only limitation is your imagination!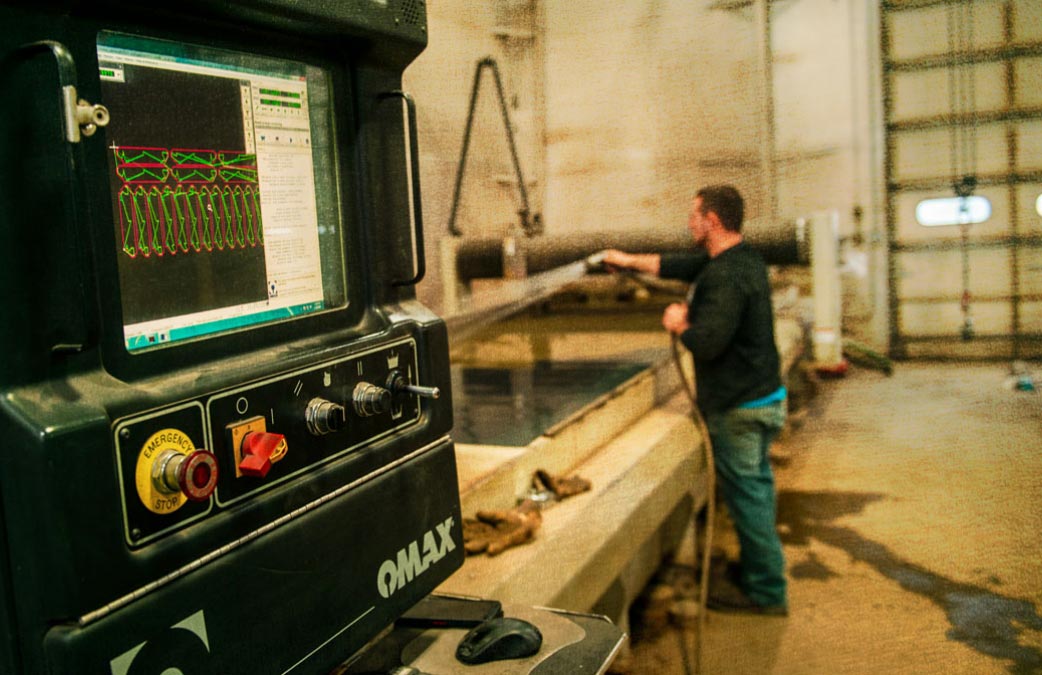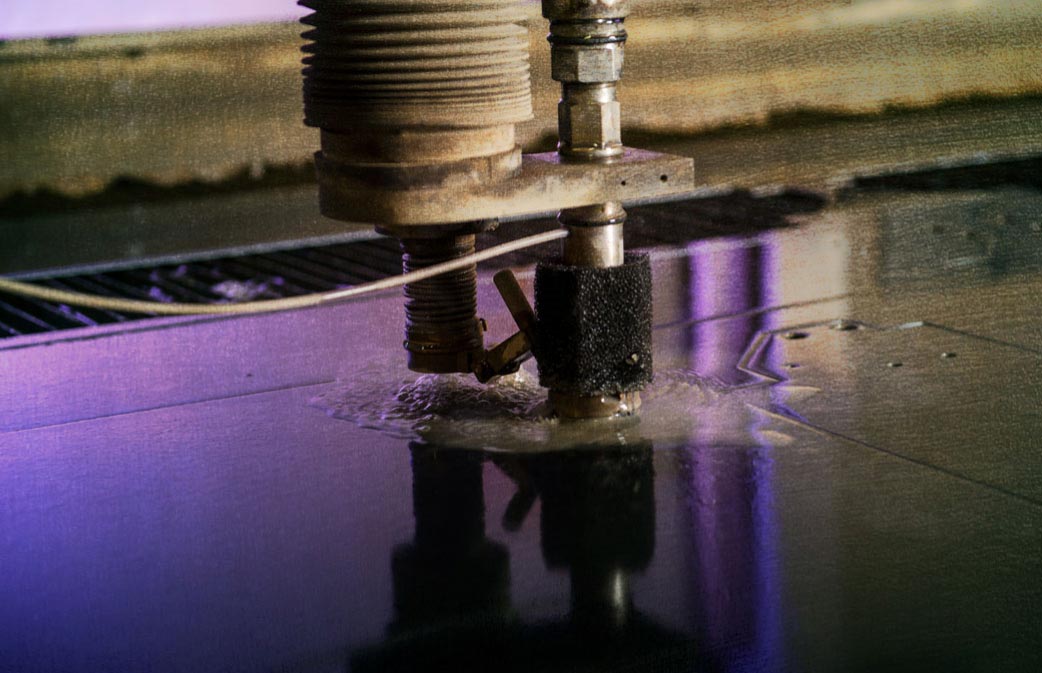 Together, the versatility and precision of these machines is nearly unmatched. If you
need something cut, we can probably do it. Just tell us what you need.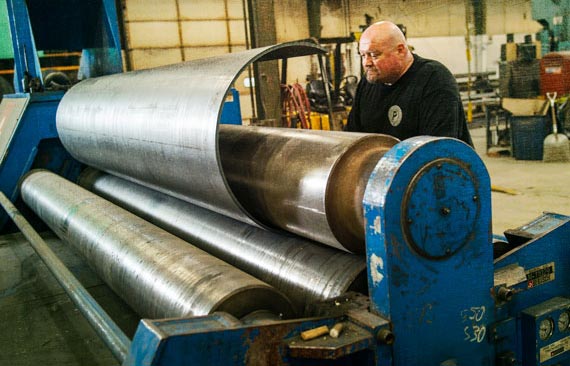 Plate Rolling
Our staff has exceptional expertise in innovative, heavy-duty metal forming. Our three in-house plate rollers are 6', 8' and 10' wide and capable of handling plates up to ½" thick x 120" in length.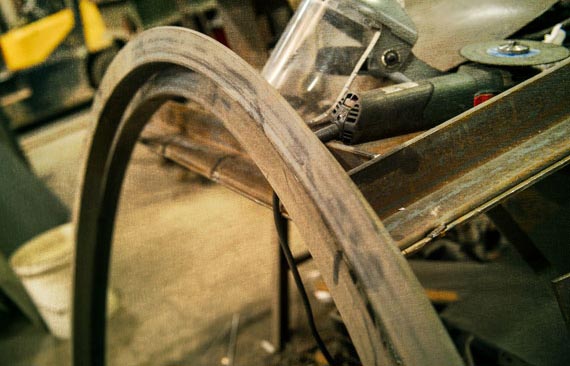 Angle Rolling
In addition to angle iron, we can do pipe, square tubing and special needs rolling. We also supply roof truss components and curved steel roofing to manufacture steel buildings.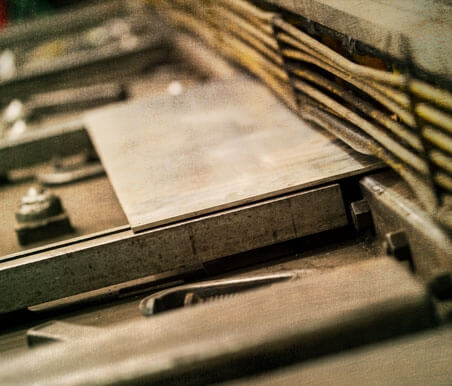 Hydrapower Shear
Shearing is a key capability in steel fabrication. Our HydraPower shear can accurately cut straight lines in flat mild steel up to 3/8" thick, 14' wide and 20' long, and stainless steel up to ¼" thick, 14' wide and 20' long.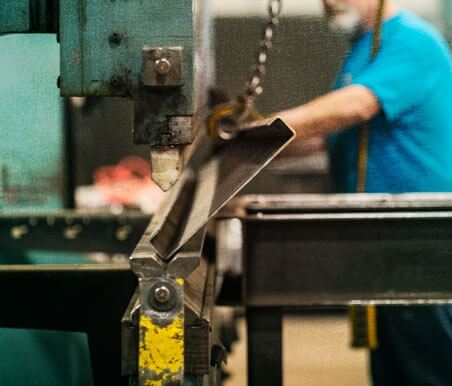 Press Braking
Press brakes are used to bend sheet metal in predetermined locations by pressing the steel between a matching punch and die. Our press brake bends mild steel up to ½" x 14' and also Grade 50-70.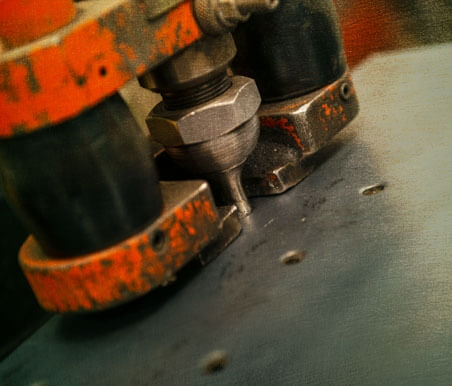 Ironworker
Our Piranha P-50 Ironworker punches holes, adds notches, shears flat or at an angle, and features automatic urethane hold downs to ensure precise cuts up to 50 tons at
3/4" diameter.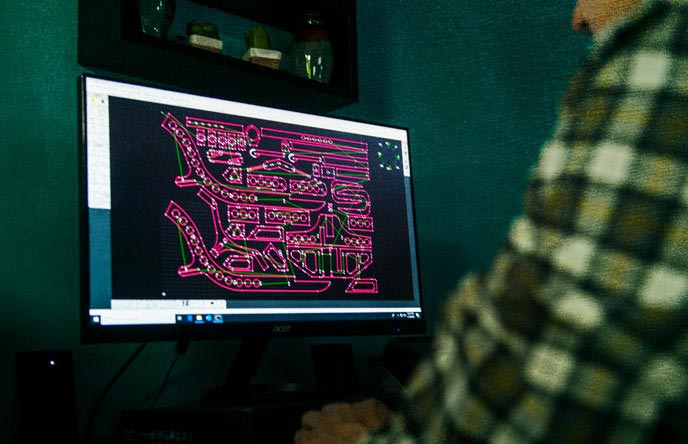 Custom Molding.
We work with a wide variety of companies in different industries to craft molds for everything from boat seats to agricultural feed systems. Molds for tanks with up to 10,000-gallon capacity are common, and we can work from CAD drawings or customer drawings—whatever you have. If you need a mold for a plastic part of almost any size, we can most likely build it.
Welding.
With four certified welders on staff with a combined 125+ years of experience, we are able to offer a wide variety of expert welding services. We can weld aluminum, steel and stainless steel with multiple methods, including metal inert gas welding (MIG), tungsten inert gas welding (TIG), and arc welding. All that to say, if your project requires welding, we've got you covered.